Sound Healing
Allow your deepest being to be touched, set in motion and when everything flows there is well-being.
We live in a musical Universe, everything is vibration.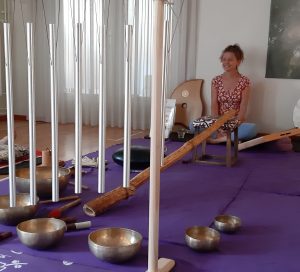 Every star or planet sings its own pulse/tone and we too are connected to our life tone, the heartbeat. A sound detunes due to tension/stress; instruments possess the power to help us get "in tune" again. Each instrument has a different frequency that gently balances the body. In the concerts I tune into the group. I play the instruments intuitively and I sing and speak light language. We travel the world together, one moment on a vast steppe, the next in a jungle. This is how I take you on a sound adventure. Mattresses, pillows and blankets are available in my atmospheric space. Are you longing for this adventure of sound experience? Then check events for dates of our upcoming concerts and sign up via the contact form. For an individual sound healing you can make an appointment by phone (+31 6 180 187 23) or email.
Rates Sound Healing/concert
Individual
Individual sound healing,
60 minutes of enjoyment for € 60.
Sound Healing concerts
Concerts in myin mijn praktijkruimte worden gegeven door Jacqueline Wijnen, in groepen tot 9 personen. Enjoy an hour and a half for € 25,00.
Sound Healing concerts on location
Concerts on location at companies or for special occasions are also possible, please contact me for more information. By phone (+31 6 180 187 23) or email.